Basic Information
Name:
Ronan Valentra
Nickname:
Ron, Ro
Age:
112, looks 17
Sexual Orientation:
bisexual
Occupation:
N/A
Race:
Demon
Rank:
Devil's Spawn
Character Description
Personality:
Ronan takes no joy in just killing people, he prefers to become friends first. He will reap any benefit that he can from the friendship, then once he decides that it is time he will quickly dispose of his 'friend'. He forms no real friendships outside of his own race, and every shred of loyalty that he has is given to his mother. There does not seem to be a single speck of honor about him when he fights. He will do whatever is necessary to win and nothing less. Anger is a foreign emotion to him, unlike most demons. He sees the bright side of everything, even a punch in the face is a reason to laugh for him. He takes joy in things like insults and injury, as he's mostly numb to other emotions
Likes:
Being generally annoying
Meeting new people
Stabbing not so new people in the back
Dislikes:
Water
Being trapped
Heights
Strengths:
Duel wielding daggers or swords
Very agile
Great people skills
Excellent liar
Weaknesses:
Small size(human form)
No real motivation
Insomnia
Physical Description
Appearance:
Human- Ronan isn't a bad height, but most of the muscle he has developed is for running. He is very lean, and slightly lanky. He definitely doesn't have much of a tan. His hair is brown, the shade mostly depending on what kind of light he's in. It's normally pretty messy as it doesn't have a comb run through it as much as it should. His eyes may be the most memorable thing about him other than his charisma. On his left is a brilliant blue, so light it's nearly white. On his right is a steely grey that really is nothing too special. Both irises are surrounded by a thick ring of black.
Demon- The only form that he would ever even consider fighting straight on in, Ronan's demon form is very different from his human. His mouth,  in this form, now runs ear to ear similar to that of a snake's. His lips have now disappeared, and his tongue is forked. His skin is now the palest of pales, and nearly every vein that is close to the surface of his skin has become visible. His teeth are nearly blindingly white and have become serrated on the edges, perfect for a good thrashing. His eyes are pure white and he has grown to nearly seven feet tall. Though he has kept his lanky figure, he is now much stronger. Talons rest at the end of his fingers, and four horns have sprouted. A set of ram horns begin above his ears and twist back and out, pointing forwards, while the second set point nearly straight skywards.
Identifying Marks:
(Tattoos and piercings, for example.)
Height:
5' 10"
Weight:
147 lb
Hair Color:
Dark brown
Eye Color:
Very light blue, nearly white. His right eye is considerably duller and is a sterling grey.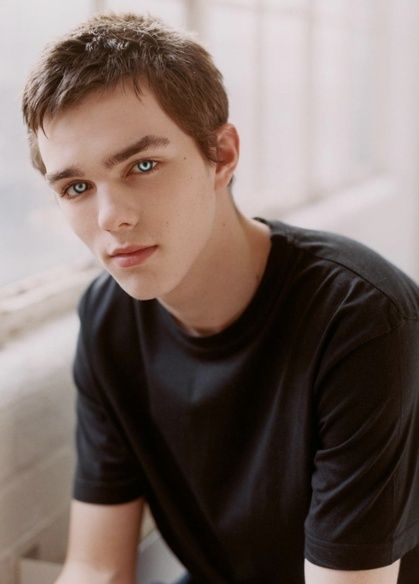 Face Claim:
Nicholas Hoult (2011 ish)